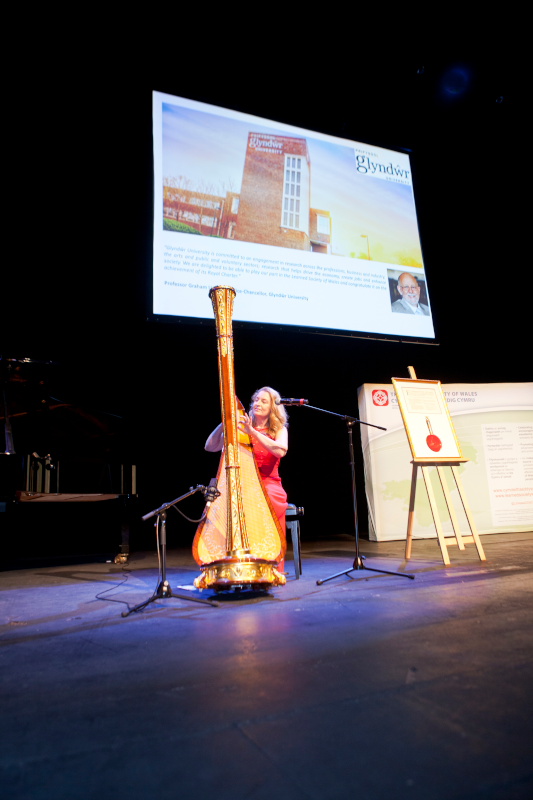 "Your playing is mesmeric…like radiation…in a good way!"
Eleri Sion, BBC Radio Wales
"Classical Gas…apart from being a great arrangement, was a lovely performance"
Tony Currie, Director of Programmes, BBC Radio 6 International
"You are the Andrea Bocelli of the harp"
Resident aboard the privately-owned cruise ship 'The World'
"The Royal family love you…and are deeply impressed with your playing"
InterContinental Hotel, Bahrain
"I was particularly moved and impressed by your interpretation of Ar Lan Y Môr"
Conductor Pendyrus Male Voice Choir
Glenda is a highly experienced and respected concert harpist with a music and performance career spanning almost 40 years. During this time she has performed worldwide and shared the stage with renowned musicians, choirs and singers, for recitals, shows, music festivals and concerts.
As a solo harpist Glenda performs major harp works from all eras at solo concerts and recitals. Her repertoire includes the Mozart Flute and Harp concerto, Handel's Harp concerto, Ravel Introduction and Allegro, Debussy Dances Sacrée et Profane and Britten's Ceremony of Carols.
Please enquire here for sample programmes.
As an Ambassador for the harp Glenda has represented Wales throughout Europe , in the U.S.A, as well as here in the U.K.  Glenda has showcased the music of Wales during many VIP concerts, events, tours an award ceremonies including for The Welsh Government, British Tourist Authority and Wales Tourist Board.
She was also the harp Ambassador for the Royal Welsh College of Music and Drama in Cardiff, where she studied with the eminent professor of harp Ann Griffiths. There she received the prestigious Pernod award for her work.
She has appeared regularly on television and radio as a presenter, performer and guest, including Radio 6 International, BBC, ITV, S4C, Radio Wales, Radio Cymru and Radio 5 Live.
As a National Eisteddfod competition winner Glenda has enjoyed performing at the Llangollen International Eisteddfod as well as on stage at the Royal Albert Hall, Barbican Theatre, Wales Millennium Centre, St David's Hall.
Previous clients for private recitals include the British Royal family, Bahraini Royal family, Coutts, Krug, Oxford University, Brunel University, Swansea University, Cardiff University and the privately owned cruise ship, The World.
You can enquire here about Glenda's availability for concerts, recitals and private performances.
Gwasanaeth Cymraeg ar gael