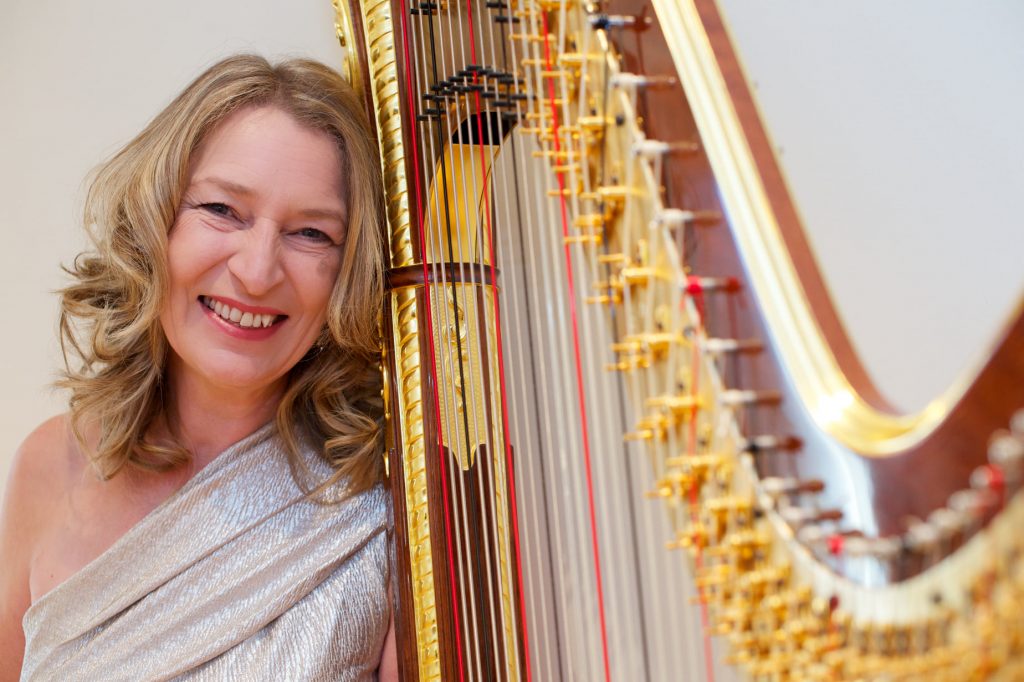 Glenda's Training
Born in North Wales, Glenda studied the harp, piano and singing from the age of seven and went on to study for a B.A. Degree in Classical Harp Performance at the Royal Welsh College of Music and Drama under the guidance of celebrated professor Ann Griffiths. Glenda was an Ambassador for the college and won the prestigious Pernod prize for her achievements.
She also holds Licentiate of the Trinity College London (L.T.C.L) for performance and teaching.
Experience and Musical Style

Glenda's mastery of the harp and genuine love of the instrument, coupled with her natural talent and flair both as a virtuoso performer and entertainer have defined a successful musical career across the globe.
Glenda is renowned as a soloist for private recitals, concerts and music festivals. Her versatile performance style is sought after to enhance corporate and charity events as well as society weddings and other special occasions.
Glenda is able to perform all major harp concertos, chamber and solo harp works as well as orchestral harp parts on request.
Her beautiful arrangements and renditions of popular music include upbeat jazz, blues, showstoppers, classics and the latest hits as well as more formal and relaxing selections of famous classical and Welsh pieces.
Glenda is an experienced accompanist for soloists, choirs and Eisteddfodau and has played with chamber groups, ensembles and orchestras. She was also the Musical Director for the touring show Made in Wales with Welsh Gold productions.
Glenda is a highly experienced headline classical artist aboard luxury cruise ships such as The World.
As a sought after teacher, Glenda has also hosted harp workshops for adults and children at the Wales Millennium Centre and Llangollen International Eisteddfod and has guest taught at the Royal Welsh College of Music and Drama.
Glenda is a regular guest on television and radio stations around the U.K.
Charity Performances
Glenda has created and supports the wonderful Beach Bus fundraiser which to date has taken over 3,000 children, who had never seen the sea, to the beach for the day. She also supports the City Hospice, Tenovus, Ty Hafan, LATCH, Marie Curie Cancer Care and Follow your Dreams, offering them them regular support, including performances and recitals.
Albums & Publications
Glenda has released three very popular CD albums of Classical music, musical arrangements and performance.
Her first album Romanza was released in her early 20's – during which time, she toured extensively both abroad and across the UK.
O'r Galon is a celebration of Glenda's love for her Welsh homeland, music and people,  and was launched live on the Welsh TV Channel S4C and BBC Radio Wales from the Wales Millennium Centre in Cardiff.
Her 2009 album Hafan is a selection of well known and much loved music including C.P.E. Bach's Sonata in G Major, Mozart's Rondo Pastorale and the ever popular Arrival of the Queen of Sheba by Handel.
In 2010, Glenda produced a book of musical arrangements entitled Top 10 Wedding Harpist Tunes for the Pedal Harp, published by Alaw Music. It is a stunning collection of arrangements for any harp enthusiast and includes Pachabel's Canon in D Major, Wedding March by Mendelssohn,  the Pearl Fishers' Duet by Bizet as well and Purcell's Trumpet Tune.
Glenda's Harp
For her performances, Glenda plays one of the most beautiful hand-decorated harps in the world. The Salvi Minerva Concert Grand is the signature harp of the Italian Salvi Harp Company. Decorated in 23-carat gold leaf with a walnut finish, it is a stunning example of true Italian craftsmanship.