Private harp tuition, workshops, masterclasses and online Theory courses
Glenda is a highly sought after harp teacher and has hosted harp workshops at the International Eisteddfod in Llangollen, Wales Millennium Centre, Cardiff and as a guest teacher at the Royal Welsh College of Music and Drama.
Please enquire about private harp tuition, exam and competition preparation, workshops, masterclasses and ABRSM online theory courses.
Spaces are very limited and you may be placed onto Glenda's waiting list during busy periods.
The Magic of the Harp
A cultural, musical and Welsh language experience of shows, workshops and seasonal programmes for Primary Schools 2021 – 2022.
Click here to open a leaflet for more information.
Click here for more information on our Facebook page.
Harp shows for Care Homes and Charitable organizations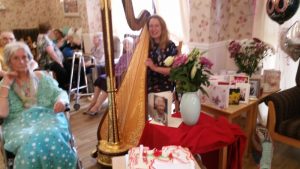 Harp music is renowned for it's calming, relaxing and healing qualities. Music is a universal language which touches people in a very special way. With this in mind, Glenda has created specialist musical shows for Care and Residential homes to offer an uplifting experience, taking the residents on a unique and nostalgic musical trip down memory lane.
The style of the presentation is friendly and interactive.
The shows run throughout the year and can incorporate programmes of Christmas music, Easter, St David's Day, special celebrations and birthdays.
As the harp is the National instrument of Wales, it is held dearly in our nation's hearts. Glenda is a fluent Welsh speaker and can present, converse, take requests and sing both in Welsh and English. The residents love to hear Calon Lân, Cwm Rhondda, Myfanwy and favourite hymns such as 'All things bright and beautiful 'and traditional folk songs, which evoke childhood memories of school and chapel.
During the hourlong show, Glenda will also perform soothing Classical harp music, film themes and show songs for the residents – encouraging them to join in by singing along and asking for requests.
A typical show will include:
Welsh folk songs and favourite hymns such as Hiraeth and All through the night.
Classical favourites and relaxing harp music.
Film music and classics such as South Pacific, Sound of Music, Nat King Cole, Louis Armstrong and Rat Pack.
Glenda can also include a musical 'Name that tune and film theme' – quiz.
Songs and pieces which are most often requested include Scott Joplin, Elvis and The Beatles.
There are also themed shows that you can book:
'The Magic of the harp in Wales';
'One day in Summer';
'Autumn Leaves'.
Gwasanaeth a rhaglenni Cymraeg ar gael
🏴󠁧󠁢󠁷󠁬󠁳󠁿❤️🎻Foundation Phase loved singing and dancing to the harp this afternoon! What a treat! Diolch! #CGPWelsh #CGPCD #CGPPSD 🎻❤️🏴󠁧󠁢󠁷󠁬󠁳󠁿 pic.twitter.com/qSICKlF2Lt

— Cwm Glas Primary (@CGPrimary) February 28, 2020
A great way to kick off Welsh week at Abercanaid pic.twitter.com/GYOXuOPL5y

— Abercanaid School (@Abercanaid_Sch) February 10, 2020